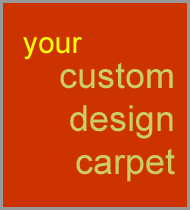 You have your own design of a carpet.
Wonderful, we are happy to weave it for you.
Available specifications are:
size of your choice
100 knots or 150 knots per square inch
pure Tibetan wool, or silk/Tibetan wool
2 inch fringes or no fringes
color(s) of your choice
When ordering a carpet, here is what you need to know:
We use only pure Tibetan wool, no New Zealand wool. This assures you of lasting quality and satisfaction even after 10 years and more. Tibetan wool keeps a much higher spring in its long lifetime and lasting excellent looks.
All carpets are made to order and manufacturing takes 2 - 3 months, depending on the size of the carpet.
Custom orders need to be paid in full upon order.
Shipping is done with Fedex, UPS or DHL. This ensures a very comfortable way of delivery to your door step.
We notify you by email the day we ship, together with your airway bill number. You may then use our tracking service to see where you parcel currently is.
GUARANTEED absolutely NO CHILD LABOR!